CHEVY 350 BLOCK, 383 CI STROKER KIT ENGINE —
350/355/362/365/370/375/400+ HP-C (COMPUTER-DRIVEN)
MIDNIGHT CRATE ENGINE
with COMPUTER TBI
GOOD STREET ENGINE, GOOD LOW MID TORQUE
2 bolt seasoned heavy duty Chevy small block.
Engine will run on unleaded fuel.
A "Crate Engine" means "Intake to Pan." Just give us a call if you'd like this engine in a TURNKEY package!
Turnkey package includes custom chip, blueprinted throttle body, distributor, plugs, and spark plug wires. Additional cost for a turnkey package is varied, depending upon your vin code and your chip's alpha code. See pricing below.
Please note this Power Engine will work with just a custom chip. We do recommend the whole turnkey package however because of mileage and wear. (Note: Does not include serpentine pulley system.)
LIMITED TIME SALE Pricing:

383 cubic inch, 350 HP (Car) = $3595
Additional cost for turnkey package = $1195 to $1395
383 cubic inch, 355 HP (Truck) = $3595
Additional cost for turnkey package = $1195 to $1395

383 cubic inch, 362 HP (Car) = $3695
Additional cost for turnkey package = $1195 to $1395
383 cubic inch, 365 HP (Truck) = $3695
Additional cost for turnkey package = $1195 to $1395

383 cubic inch, 370 HP (Car) = $3995
Additional cost for turnkey package = $1295 to $1495
383 cubic inch, 375 HP (Truck) = $3995
Additional cost for turnkey package = $1295 to $1495
383 cubic inch, 400+ HP (Truck or car) = Call us for pricing. *
* Please note this is a radical engine, designed for off-road use, with radical components not designed for the street (like David Jr's 4 wheel Blazer and 4 wheel custom Camero).
Torque specs:

383 cubic inch, 350 HP (Car) = torque spec up to 380 ft lbs
383 cubic inch, 355 HP (Truck) = torque spec up to 385 ft lbs

383 cubic inch, 362 HP (Car) = torque spec up to 382 ft lbs
383 cubic inch, 365 HP (Truck) = torque spec up to 388 ft lbs

383 cubic inch, 370 HP (Car) = torque spec up to 390 ft lbs
383 cubic inch, 375 HP (Truck) = torque spec up to 410 ft lbs
383 cubic inch, 400+ HP (Truck) = torque range of 430 to 440 ft lbs
We are in the process of dyno testing this engine! One of our new upgrades - please remember we are one of the few in the country that can dyno test TBI (throttle body injection) engines, and TPI (tune port injection) engines.

Please also note that some of these engines require the second generation Vortec heads to accomplish these spec numbers. We can advise you if this upgrade is required for your needs. (This means that you can have after-market iron or aluminum heads, the 8-bolt intake, and adapter at an additional cost.)
Please note that computer upgraded chips and the turnkey packages are required for these engines. The unique advantage of this is that the engines will run on pump gas!
Ask about our Fast Track Startup:
That means this engine can be Real Ready to Run OUT OF THE BOX if you choose our our Fast Track startup, which includes break in, super tuning with a house carburetor and distributor. We have designed a custom CNC adaptor that bolts on the TBI intake so we can bolt on a 4 barrel carburetor to do the initial break-in. This provision allows us to break in the cam, adjust the valves, re-torque the heads, and do a thorough inspection of the engine during the break-in process. Also realize that we use a fast fuel computer system to tune the engine with the computerized cam that is in the motor we have chosen for your application. We also degree our cams, which 90% of other companies do not take the time to do.
Please note that we have been GM, truck, car, Corvette, and throttle body injection and tune port injection specialists and innovators for these types of engines for many years.
If you choose to do a Fast Track Start Up, we have special pricing right now on these engines!
Click HERE to learn more


about FAST TRACK, and


to view a sample video.
SALE SPECIAL:
We are now offering these same engines with the Second Generation Vortec head, which is from 1996 to 2002 with the 8-bolt intake. Please note that the 8-bolt intake is an extra cost. The upgrade for the heads on this motor is $495.
For Chevy truck and car applications;
Has EGR hookup for emissions but must have modified chip and upgrades. (Note: not legal in some states.)
Special features on this crate engine include these new parts and more: (Be sure to scroll down the page to see a more detailed listing.)
This engine has the First Generation Vortec Heads.

NEW T.B.I. - Throttle Body Injection Intake
Manifold by Edelbrock. See below for more details!

Has EGR hook up for emission, Recommend modified chip (note: not legal in some states)

COMPUTER controlled Hydraulic CAM
Ask about our computer controlled Roller Cams!

SEAL POWER HYPEREUTECTIC PISTONS

Steel forged rods, Nodular crank.

Chrome valve covers, Steel timing chain cover

Professional Products 8" Harmonic Balancer

Flex plate for automatic transmission included

5 qt oil pan (7 qt oil pan extra)

GM steel timing cover with correct timing flag pointer for correct base timing. Please call for details. (Updated photos coming - we do not install chrome timing covers any longer.)

To obtain these types of horsepower, engines were tested with a TBI 50+ mm Big Block Chevy TBI throttle body. But most engines will operate with a 46+ CFM throttle body that has been blueprinted to match the engine application. This means if a 454 throttle body is chosen, it will be for radical (for off-road) application not desirable for the street.
This is called base CFM range 670, 700, to 800+ CFM (cubic feet per minute).

Required modification: the intake manifold has to be counter-bored 50 to 52 mm intake bore size.

For larger volume throttle bodies: a 50 to 52 mm intake (Edelbrock) must be bored for these large horsepower engines. (Note: this is for radical engines only!)

Larger fuel pump required for all 383 engines.

Because of the horsepower range and torque, headers and dual exhaust are required. Exhaust pipe size and specs will be given when you call.

When you call to order your engine, we can give you the technical advice needed to create a correct combination.

Because of the horsepower and torque capabilities, a 7 qt oil pan is required. We have proven this time and time again through our years of experience with 4 wheel drives. (7 qt steel oil pan, or 7 qt Milodon high performance oil pan is available at an extra charge. See photos.)

For an additional charge, get roller tip rockers and molly push rod assembly kit!
Rockers from $199.95 to $299.95
Molly S&P push rods from $99.95 to $149.95

Comes completely assembled.
Ask about our UPGRADED ROLLER CAM package!
One of the unique facts about Roller Cam combinations is the strong mid range torque it produces along with great roller reliabilty of the engine. This Roller Cam Combo has Low to Mid Pulling capabilities.
Please give us a call for your application. Roller Cams improve power and mileage and reduce friction and wear to create less engine heat and wear each year. We are selling more and more Roller Cam Engines. When you have one, you'll realize why.

What comes with your Power 3® engine?
Your Power
ENGINE PARTS

include:
Power 3 ® computer controlled cam kit
Power 3 ® hydraulic lifters, Seal Power
Power 3 ® spring set, heavy duty ( 910 to 980 series spring sets )
Edelbrock Throttle Body Injection Intake included
Heavy Duty Stem steel intake valves 194
Heavy Duty Stem steel exhaust valves 1.5
Premium positive valve seals, polyacrylate
Heavy duty roller timing chain
Controlled internal oil system (a P.E.R. exclusive!)
Heavy duty, high volume oil pump
Heavy duty steel collar oil shaft
Heavy duty oil pickup screen
High quality American Seal Power hypereutectic pistons
P.E.R.® High Performance SP plasma molly rings
Brass freeze plug kit
High quality rear main seal double lip polyacrylate
Fel Pro PermaTorque heavy duty gaskets and gasket set
Clevite Main bearings, Tri metal, high quality
Clevite Rod bearings, Tri metal, high quality
New rod nuts installed
Cam bearings, high quality 360 Set
Built from one of our Dyno tested and road proven Dyno packages. Your engine can also be Dyno tested for an additional charge.
Call for info on flex plate or fly wheel.
Call for correct flex plate on automatics.
Call for info on standard transmissions (4 or 5 speed, etc.)
Comes complete, intake to oil pan. Some assembly may be needed.
POWER 3 ® ENGINE
MACHINE LABOR

includes:
P.E.R. 4-angle® valve job
Mill-matching surfaced heads
Heavy duty thick wall valve guides
Valve guides custom cut for posi-seals
Jet vat block and magnifluxing
Remove and replace all freeze plugs
Remove and replace gallery plugs
Remove and replace cam bearings
Custom centerline boring of block
True 90 degree V8 centerline
Power hone to fit pistons and rings
Custom crank micro polish radius oil holes
Rods pressed off, then heat fitted
Rods checked for alignment
Street balancing
This engine would be GREAT in your Muscle Car, Street Rod, Truck, 4x4, or Jeep. This engine will run on unleaded fuel.
This is a 2 bolt seasoned heavy duty Chevy small block. (4 bolt heavy duty blocks also available for additional fee.)
For any changes needed, just call and we will build a custom engine package for you with the horsepower you want. You can also change the color, choosing from over 25 different colors.
ALL OUR ENGINES 327- 350- 383- 396- 427- 454 ARE CUSTOM HAND BUILT.
Call to order this engine:
Toll Free 1-888-766-8044
08:00am - 5:00pm Monday - Friday
09:00am - 1:00pm Saturday
Times listed are Arizona time (-7 GMT).
Arizona does not observe Daylight Savings Time. We are on MST all year round.
This Power 3 ® Engine is Totally REBUILT in our Machine Shop by Professionals from start to finish. The Power 3 ® Engine Performance Combination was developed from our over 45 years of experience on MUSCLECARS, STREET, STRIPS, HOT RODS, CUSTOM TRUCKS, 4x4s, KIT CARS, CUSTOM TRUCKS and JEEPS. PhoenixEngine.com has built over 140,000 quality engines to date.

Warranty and Shipping Info:
This engine has a one year written warranty. Buyer pays actual shipping costs if unable to pick up engine from our shop in Phoenix AZ. Some state freight restrictions apply. Payment due in full prior to shipping. We accept Visa, Mastercard, Discover, money orders, cashier checks and direct deposit. (GET A DISCOUNT WITH A DIRECT DEPOSIT!) Business or personal checks must clear prior to shipping. Arizona residents must add 8.6% sales tax.
Call for core requirements.




SPECIAL PROMO!! Call NOW for FREE SHIPPING to Southern California! We also offer super shipping rates to all 48 continental states. Ask about shipping to Hawaii, Alaska, and international destinations.
Call PhoenixEngine.com today to order!
Toll Free: 1-888-766-8044
Disclaimer: Please note that some parts are based on availability. The brand names listed above are guidelines; the exact brand name may not be available at the time we build your engine. Pricing is deemed to be correct at time of posting, but is not guaranteed. It is listed as a guideline only. Please call us for complete pricing on the engine built to your specific requirements.
These engines are built from our Dyno tested packages in our shop and road proven.
Your specific engine can be Dyno tested individually for an additional cost.
Also ask about Fast Track engine testing for your engine, which is cheaper than Dyno testing!
Please be sure to read our full Disclaimer: CLICK HERE.
PC 10/12/2012, 11/13/12
Txt 11/13/12
Renamed 11/14/12
1/15/13 txt
10/14/13 txt/core
6/3/14 txt (140K engines & 44 yrs)
7/2/14 txt & pc
9/20/14 txt
3/13/15 txt, px (upgr heads,rockers)
11/16/15 TBI pics
12/7/15 hours
3/15/16 txt, bullets
3/30/16 pc
9/14/16 txt,dyno,dsclmr
2/9/16 pc, txt
5/25/17 tax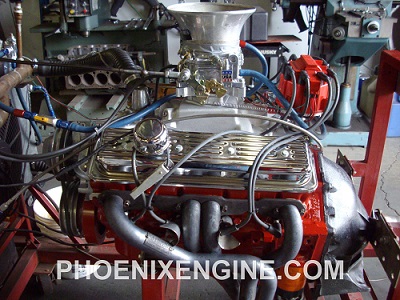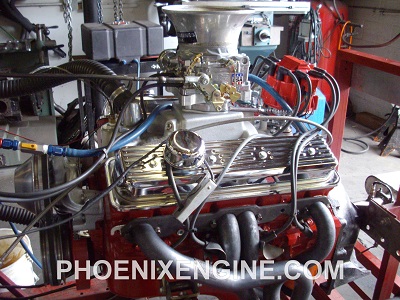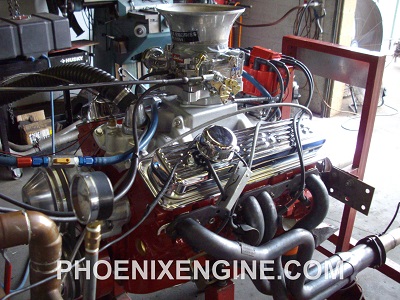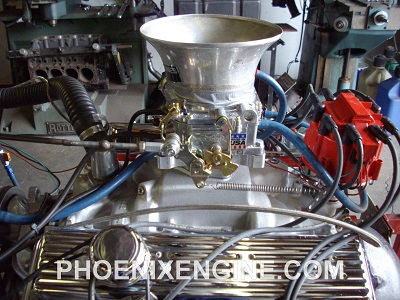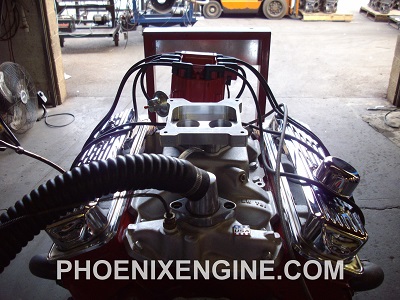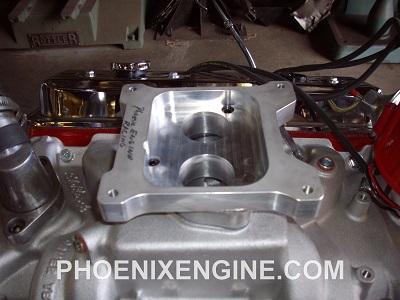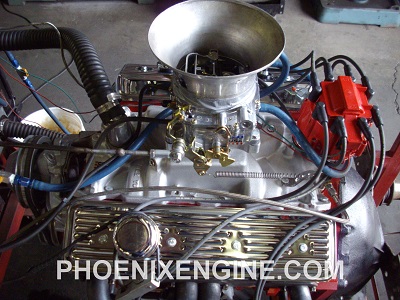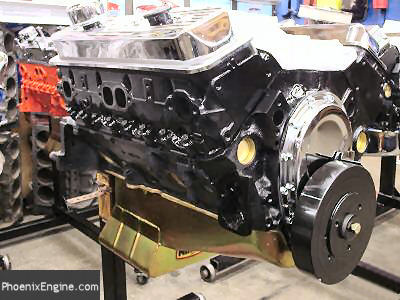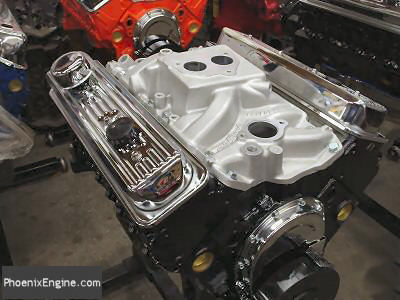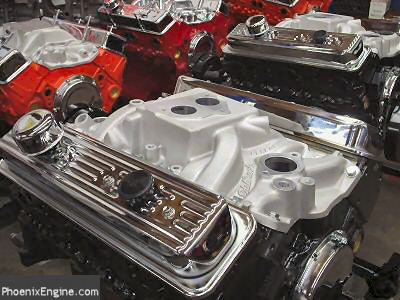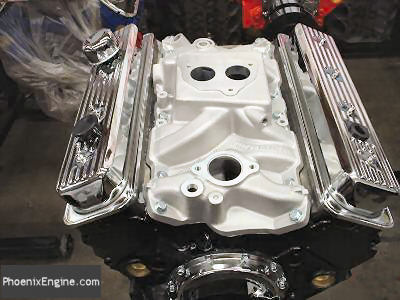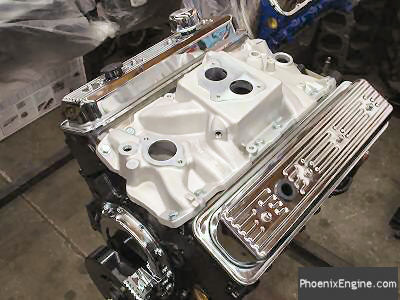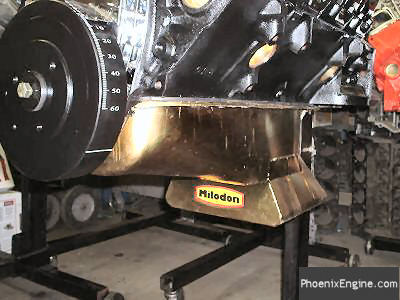 * Note: When we custom build your engine, you can choose from over 25 different colors or you can supply the paint to have your engine painted the same color as your car's finish!
Please note photos may vary from actual product as all our engines are custom built.